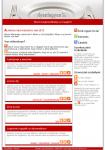 What is Agile Sites?
Agile Sites is Agile Web Designs LLC latest product offering allowing affordable customized websites used to create a professional online presence. You can have a customized website solution for your business for the low price of $795.00 or $1,550.00 depending on your business needs. Our customized websites are a great promotional and sales tool for any business.
more
---

Our company designs and develops customized and cost effective websites for each of our clients. We can deliver...
more

Accepting credit cards is essential to a successfull online webstore. Agile Web Designs has worked with many...
more
One of Agile Web Designs latest custom built sites is IGOTpen.com.

We worked with IGOTpen to design a custom site with an integrated NetSuite shopping cart and payment processing system.
Agile Web Designs developed a custom website solution for Silver Creek Valley Country Club Home Owners Association.

This website has a complete custom developed back end administrative system which can be used to update and change the content and layout of almost all the pages of the website.
Agile Sites is Agile Web Designs custom template website design system. Agile Web Designs will create the customized template website for your business and you can use the built in admin system to keep your website up to date and make changes any time.