Silver Creek Valley Country Club HOA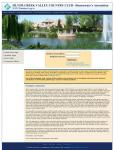 Agile Web Designs developed a custom website solution for Silver Creek Valley Country Club Home Owners Association.
This website has a complete custom developed back end administrative system which can be used to update and change the content and layout of almost all the pages of the website. An email function build into the admin system allows site administrators to send out newsletters and important updates to the community. We also developed a custom park reservation system and calendar system for the community. The site contains dozens of pages of useful information and pictures for the homeowners at Silver Creek Valley Country club. The public pages of the website can be seen here at www.scvcchoa.com.