Microrite Payment Processing System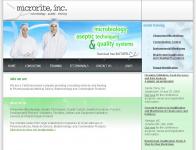 Accepting credit cards is essential to a successfull online webstore. Agile Web Designs has worked with many clients to set up order processing systems.
One of our latest projects was setting up the payment system for Microrite.com. www.Microrite.com is a California based company providing consulting services and training to Pharmaceuticals, Medical Device, and Biotechnology companies. They provide custom seminars to thousands of biotech professionals every year. The challange was replacing the old pay by credit card over the phone system.

We worked closely with our client and chose the Paypal system to integrate in the website. Once the client signs up for the seminar, they are taken to a secured payment processing page hosted by paypal to complete the transaction. Clients can use Discover Card, Visa, Master Card or American Express to pay for the training. Once the payment is processed they are returned to the Microrite website. It's a seemless process that works perfect for Microrite and makes it easy and efficient for their clients to do business with them.