IGOTpen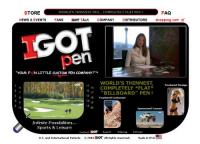 One of Agile Web Designs latest custom built sites is IGOTpen.com.
IGOTpen is: "Your FUN Little *Custom* Pen Company!"TM
We worked with IGOTpen to design a custom site with an integrated NetSuite shopping cart and payment processing system. The site is designed so IGOTpen can at anytime update all the pages with new content through the custom designed administrative system. All the pictures from the customized roll over photo section on the home page to the header images and products on the store page can be updated 24/7 by IGOTpen without Agile Web Designs help. This customized solution has helped IGOTpen's website stay looking fresh and up to date by constantly changing the look and feel of the website.
Check out www.igotpen.com and order your own customized thin flat pens!